Symphony
Symphony is a very powerful MIDI controller application. Furthermore, it allows you to create graphical user interfaces through a WYSIWYG editor.
The internal processing can be highly user-programmable, thanks to the Symphony Value-passing Engine and the many bundled Operation Logical Blocks.
By interacting with input and output MIDI streams from your computer, Symphony can manipulate any data or control to your specification.
For example:
Moving a slider on your custom GUI causes the transmission of MIDI CC data

The reception of a MIDI CC message triggers the transmission of a MIDI message

MIDI messages can be altered through a mathematical expression, or through a concatenation of Symphony Operation Blocks. Some sliders in the GUI can alter the processing parameters

And much more!
Symphony can be used to control just about anything that accepts MIDI input, including your DAW, standalone virtual instruments, plugins, hardware (using an appropriate interface) and even other MIDI-enabled apps.
Symphony's graphical interfaces (GUIs) are multi-touch capable and you can interact with them with your mouse or touchscreen. You can open as many GUIs as you want on one or more touch or not-touch screens.
You can choose from a set of highly customizable graphical widgets to build your GUIs, including linear sliders, rotary knobs, buttons, labels, panels, multi-page panels, bidimensional pad, and many more.
Here is an example of a GUI that you can design with Symphony: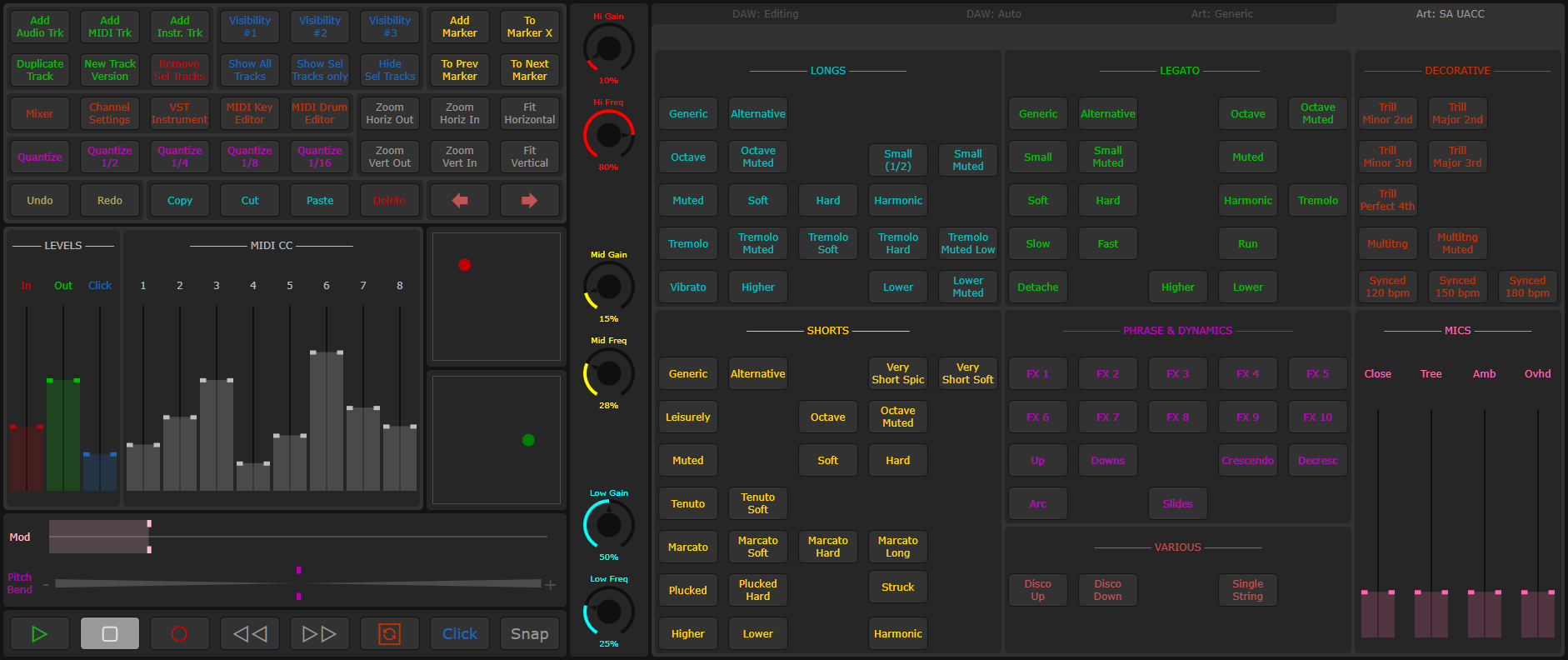 Using Symphony can be extremely easy: just load a Project that you downloaded from our website examples, or that a friend sent you, then Start it: the GUIs will appear and the MIDI processing starts.
Or you can load an existing Project, and customize it to fit your needs.
Symphony even allows a high degree of customization: you can create a project from scratch, then design and customize the GUI appearance to your needs, or even add custom processing of data inside the Symphony Project using the available Logical Blocks under the Operation category, or using a custom expression written using the integrated Python scripting language.
The Symphony engine is based on Value-passing between its internal Objects, through Links which can alter them, change their type, and allow or block their transit.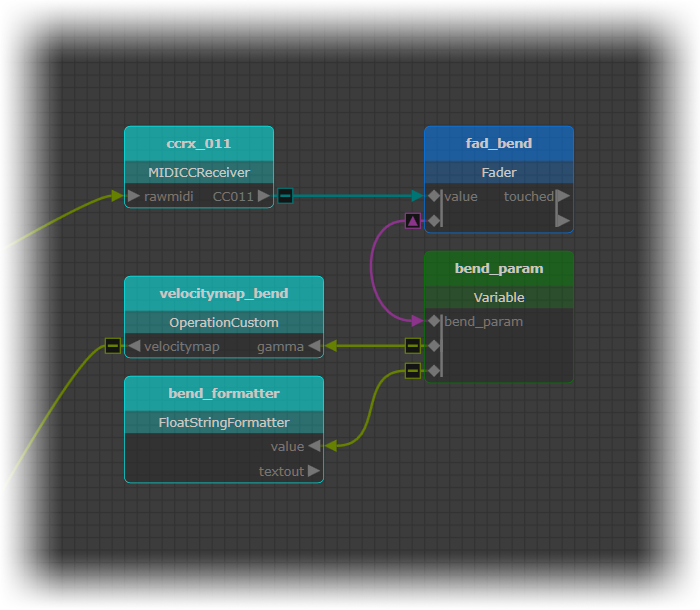 The Symphony integrated Editor allows you to create and design your GUIs in a visual environment, making the process easy and straightforward.
In the node-based Logical Editor you can have a clear view of the Values flowing from one Logical Block to another, through Links that connect them.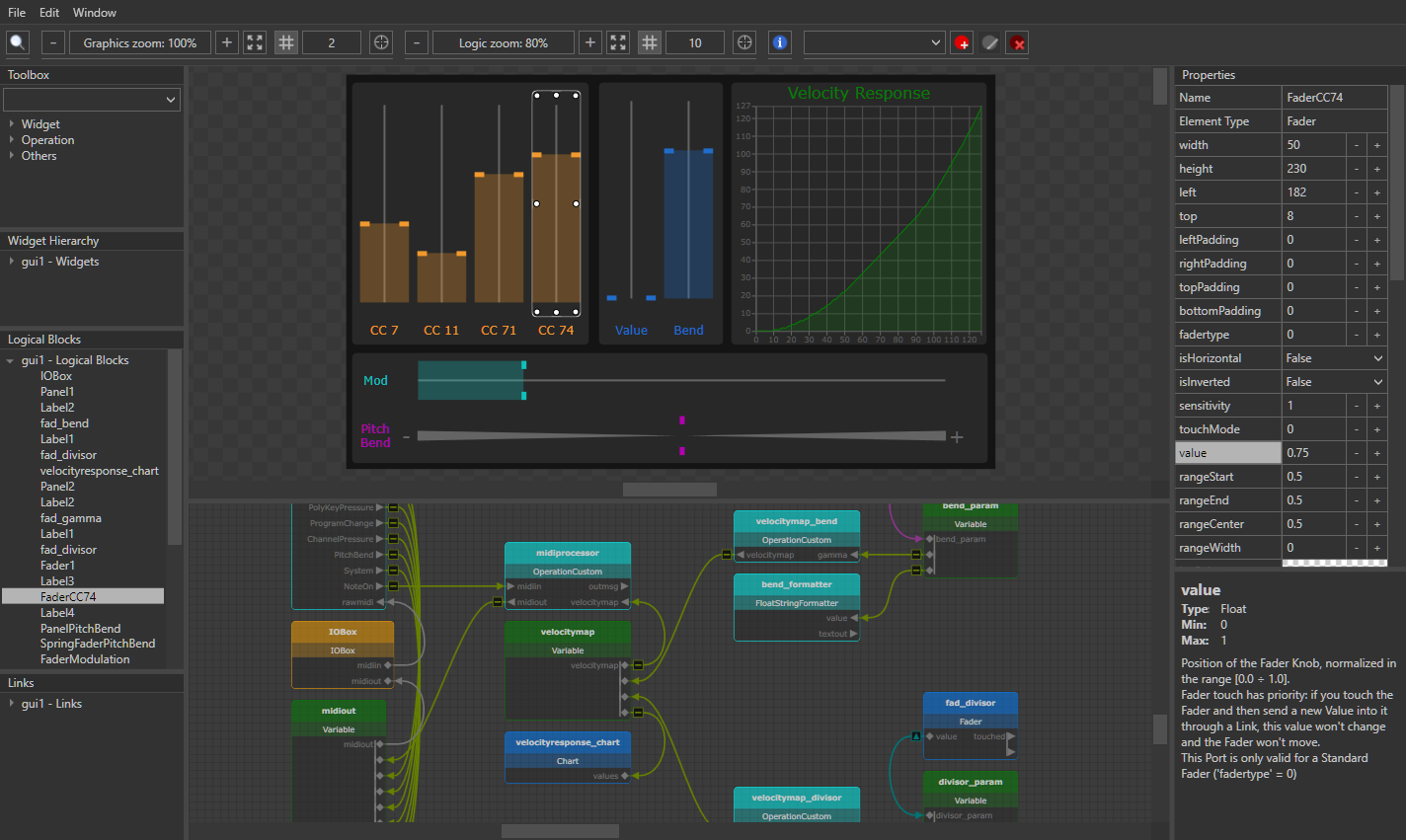 Symphony has a straightforward Workspaces manager to recall the position and visible-status of any of its GUIs for fast switching between different workflows.
Symphony can create as many virtual MIDI ports as you need and you can connect all your MIDI HW controllers, DAW, Virtual Instruments and any MIDI-enabled application in a centralized environment. 
---
System Requirements
You can run Symphony on Microsoft Windows 10, version 1607 and later.
Previous versions of Microsoft Windows are NOT supported.
---
Download
You can download the application installer, user guide and related files on the Software and Documentation page of the Support section.
Just after the installation, the application will be unlicensed and will run in Trial Mode.
(Trial Version Limitations: Symphony will work for 20 minutes after startup, then it will close and will need to be started again)
You can buy a full-featured, unlimited license on our Store.
PLEASE NOTE that the Full License purchase is not refundable.
We recommend you to thoroughly test your system in Trial Mode before purchasing a Full License.