DTouch for Cubase V2
DTouch for Cubase is an outstanding multi-touch Cubase control software application.
The DTouch software will improve your workflow with some non-conventional, but really revolutionary features!
The DTouch application will offer you a direct and very fast interaction with your DAW.
Using DTouch with a commercially available touchmonitor, you will be able to build the ultimate touch-based control surface for Cubase DAW at an incredible price.
You can freely choose the dimension and the characteristics of your preferred touchmonitor in order to shape your working place exactly as you like it.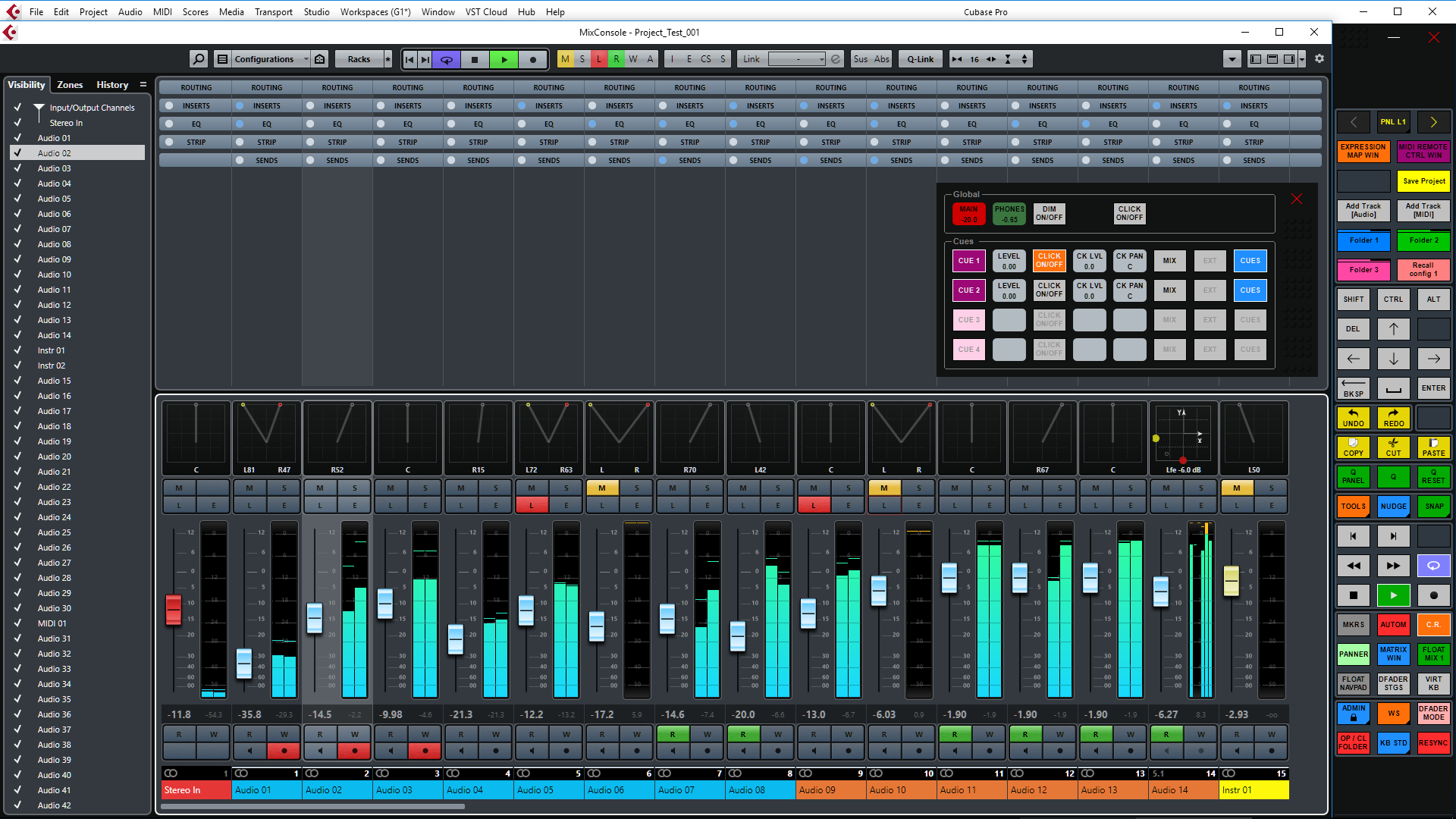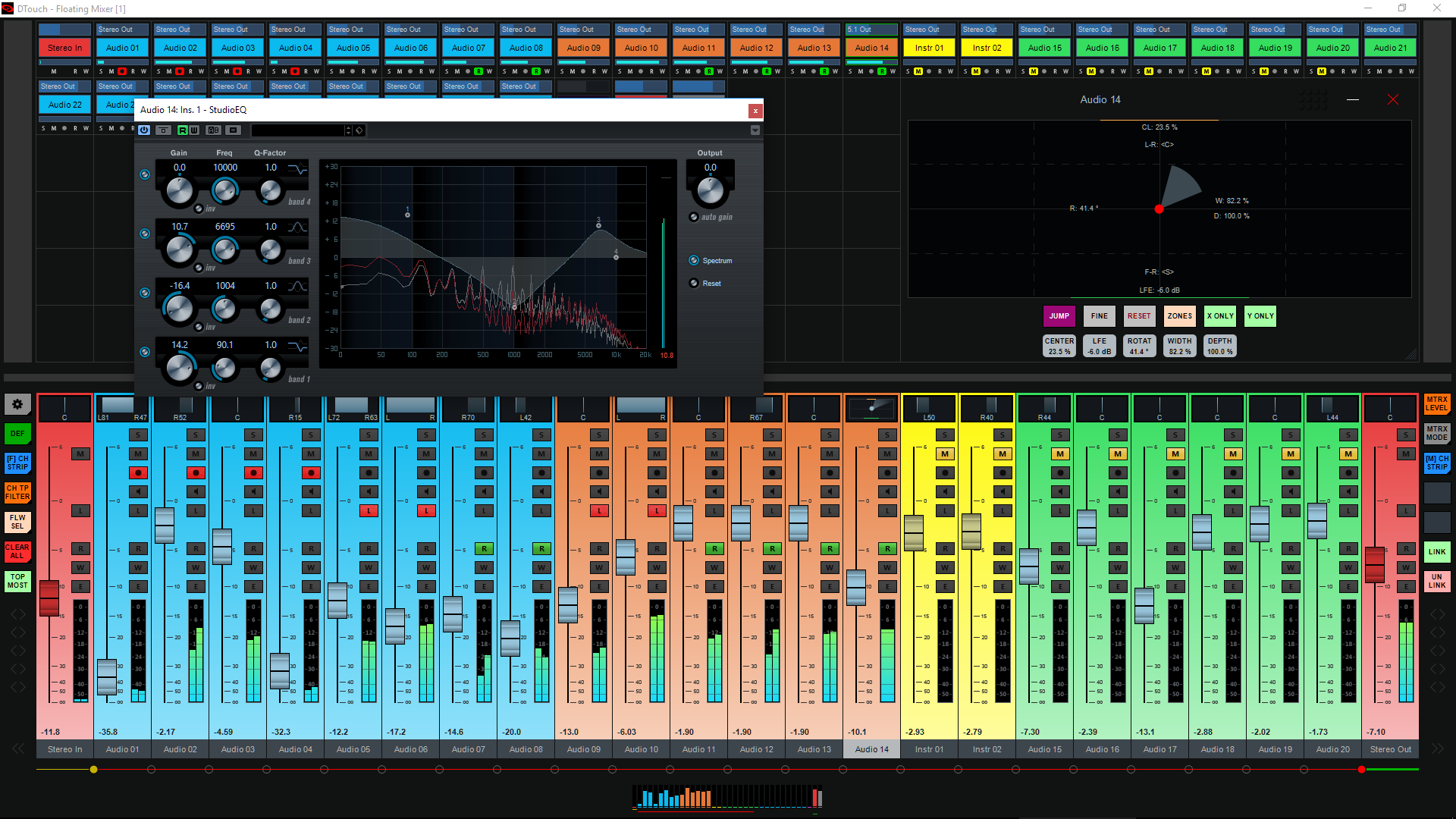 DTouch Floating Mixer gives you a direct and concurrent access to any number of Cubase faders in a multi-touch way. These virtual faders have a long travel and an accurate response.
The DTouch Floating Mixer will offer you a tight control on any piece of the Cubase Mix Engine. Every DAW control is right at your fingertips!
One of the most important advantages of the DTouch application is that the faders are perfectly designed for multi-touch finger interaction.
You can use amazingly fast and intuitive finger actions on Cubase Track-Record-Enable, Solo and Mute buttons too!
Direct touch control of the Plug-Ins GUI is one of the most powerful features of DTouch. You will be able to directly tweak your Plug In or Virtual Instrument on their GUI with your fingers in a easy and natural way.
DTouch can be highly customized to adapt to your preferences and workflow: a high number of User Buttons, grouped into User Panels, can be re-configured to perform a DT Standard Function, to launch a custom Macro, or open a floating User Folder, which makes even more User Buttons available!
In addition, the DTouch Mixer Channel Strips are completely customizable, adding or moving Channel Strip Buttons as you like! There are 10 presets available to save your customized Channel Strip View.
DTouch includes its own Workspaces, which can be bound to the Cubase ones, extending them and allowing you to setup your DAW with ready-to-recall window placements, letting you switch from one setup to another at a glance!

DTouch provides a DTouch Panner, which helps you setting the surround panning of the first selected Track easily and, most important, quickly: it has some unique features like Delta positioning and Zones, real game-changers for your productivity!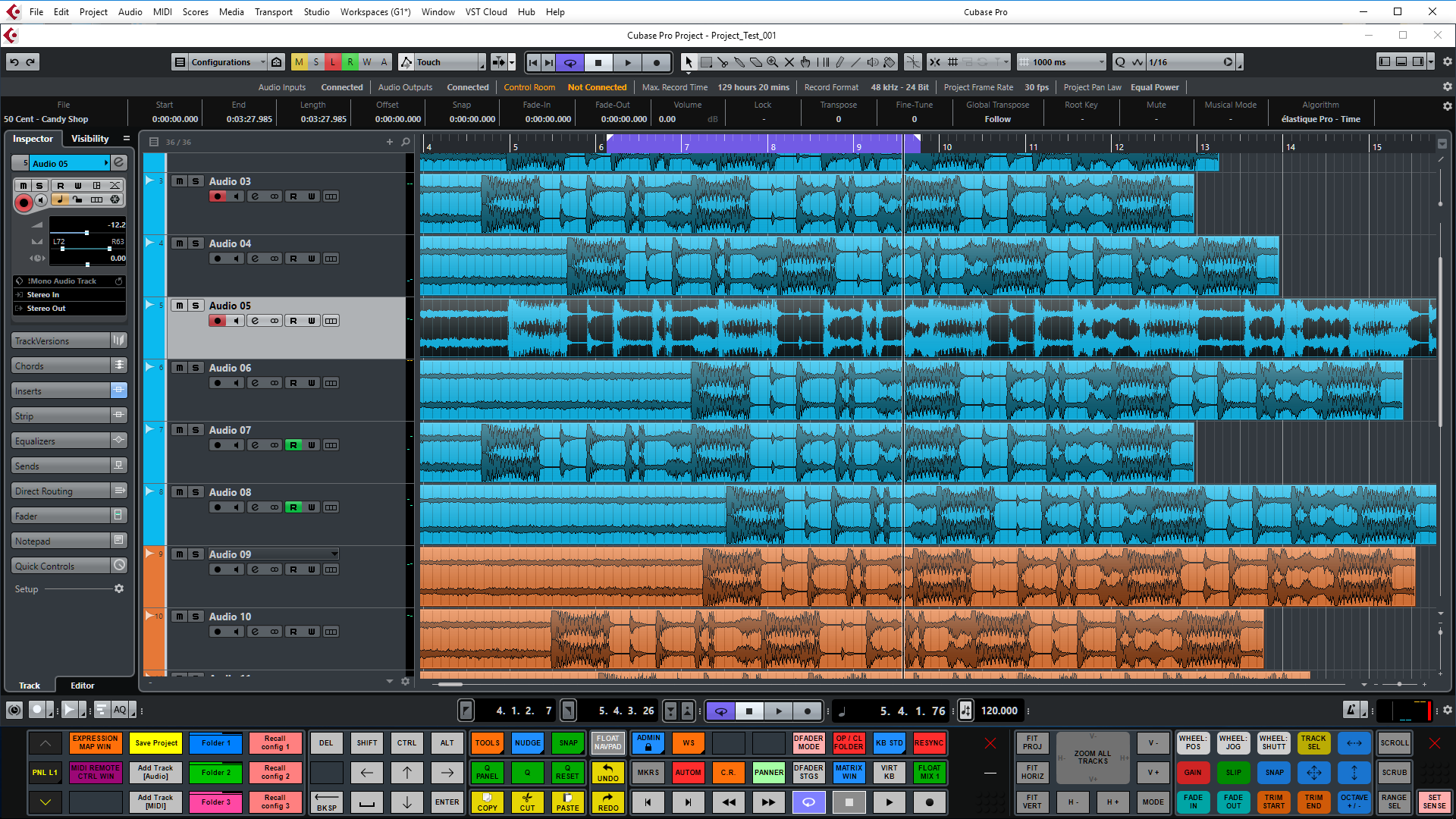 During editing, you can have ergonomic access to the Transport controls and buttons and you will find a powerful session Navigation/Zoom tool too: the NavPad.
Moreover, the DTouch application will offer you an additional set of touch-enabled buttons for immediate access to the Cubase editing tools. With the Cubase Project Window right under your hands, you will be able to draw directly any automation parameter with your fingertips. You will feel to actually touch the Cubase GUI!
DTouch Matrix Window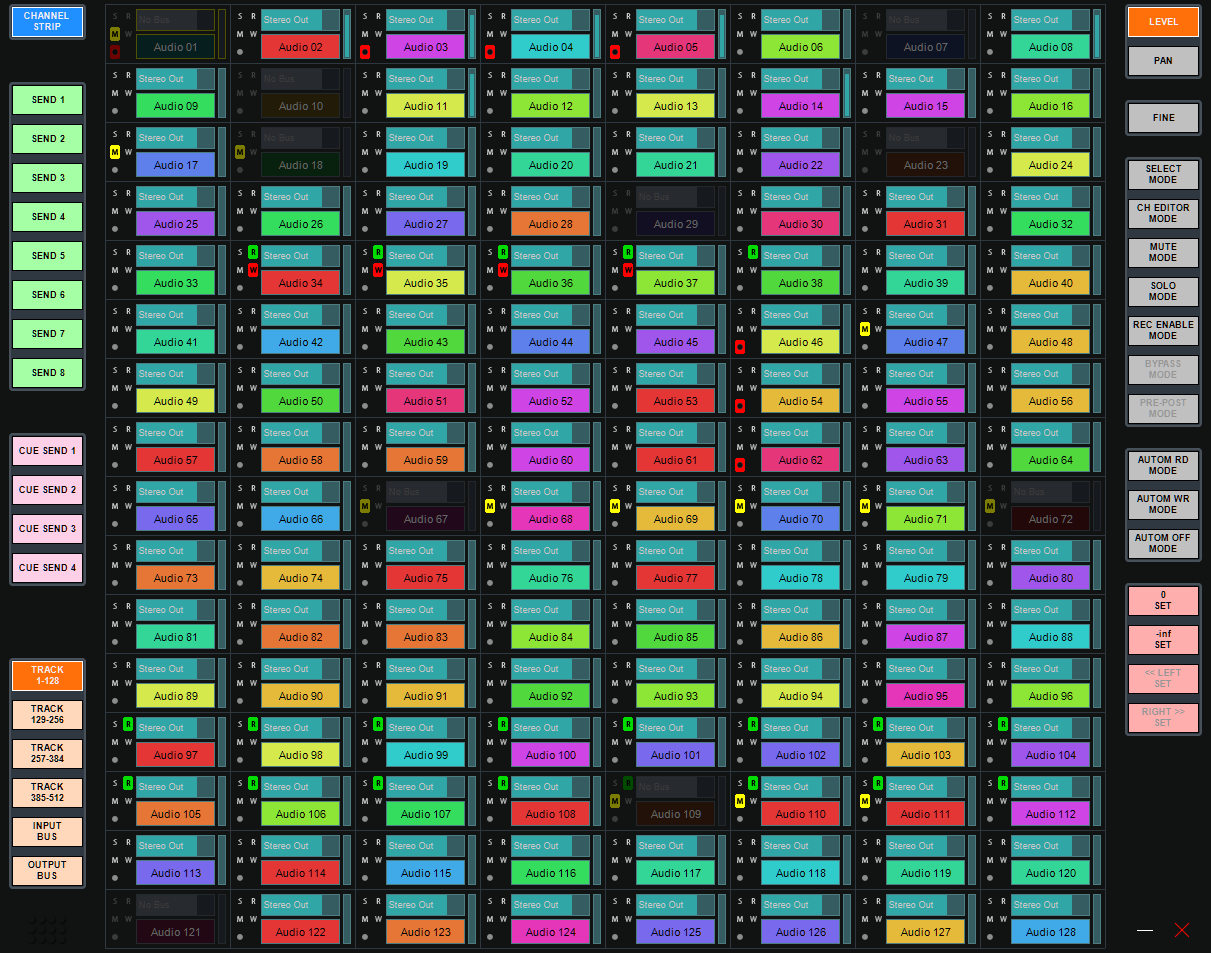 The DTouch Matrix Window gives you an overview of your Project with a single window, giving you a high-density information source over a maximum of 128 Tracks or Busses.
You can even change some parameters from it, for a quick check-and-change workflow.
No more searching for that Track, banking left and right!
DTouch for Cubase has a lot of other features; the most important ones are the following:
- Support for multimonitor setup
- Full track names in the integrated mixer
- Improved PanPot control
- Enhanced DTouch Surround Panner
- Fully configurable DTouch Mixer
- Lots of customizable User Buttons
DTouch Macros


DTouch for Cubase includes the Aida Sound powerful Macro Engine. You will be able to build very complex Macros with automatic use of Key Commands, Mouse moves and clicks and a lot more. Macros can be organized in folders and can be launched by a virtual or tactile keyboard.
The DTouch Macro-Editor is a very powerful tool that will allow you to create special function buttons with the power of a Macro Language. You will be able to build complex sequence of keycommands, record and play mouse moves and clicks, interact with Cubase windows and much more.

DTouch Macro-Editor is one of the most powerful macro engine available on the market. You will be able to build incredibly complex and interactive macros with the help of a simple macro builder GUI or by using the power of an outstanding embedded Python Scripting Language Interpreter. The use of Python language and a dedicated API open an incredible amount of future improvements to your workflow.

You will also be able to Import and Export your preferred Macros and share your DTouch settings across multiple workstations.

DTouch Macro-Editor gives you a tool able to map Macros to your tactile workstation keyboard; with this tool, you will be able to remap any shortcut or complex macro to a custom keyboard layout.

DTouch advanced Macro-Editor can save you hours a day, automating very complex and cumbersome command sequences. DTouch Macro-Editor is a real Cubase supercharger!


Physical External Controller
With DTouch you have the option to connect any external HUI-compatible or Mackie Control-compatible DAW controller. This will combine the power of DTouch versatility with the feeling of a physical fader, bringing you the ultimate experience in DAW control.
For the first time you will be able to have a Cubase hybrid multi-touch controller with a mix of both the touchscreen and physical faders/rotaries advantages.
DTouch has a lightning fast method to map external physical faders to Cubase Mixer tracks.
DTouch can give a new life to your HUI-compatible or Mackie Control-compatible controller.
DFader Mode
DTouch for Cubase integrates all the features of another great Aida Sound application: DFader.
With DFader Mode, DTouch gives your External Controller a whole new set of possibilities.
If you own DTouch for Cubase, you do not have to buy DFader in order to be able to use DFader Mode: it's free, and completely integrated into DTouch!
MIDI Composers Tools
DTouch incorporates two must-have tools for MIDI composers.
One is the Expression Map window, which shows you a collection of buttons, one for each Sound Slot in the active Cubase/Nuendo Expression Map on the selected Track. Just press one of these buttons and switch to another Sound Slot!
Another must-have tool is the MIDI Remote Controller window, that lets you send arbitrary MIDI-CC values over a virtual MIDI port. You can use this, for example, to control VSTi parameters, or even some dedicated hardware.
DTouch and Cubase Workspaces
The DTouch Workspace Manager allows you to create ready-to-recall window placement, supercharging the Cubase Workspaces: it not only recalls a Cubase Workspace, but complements it by recalling the DTouch own windows. This lets you create a set of perfectly customized Workspaces for your needs: for example, one for Mixing, one for Editing, one for Plugins, one for Songwriting… The customization possibilities are endless!
---
System requirements
Supported OS Versions:
You can run DTouch for Cubase on Microsoft Windows 7 (all editions), Microsoft Windows 8 (all editions), or Microsoft Window 10 (all editions).
Previous versions of Microsoft Windows are NOT supported.

Supported Cubase Versions:
Cubase 7.5 (32 and 64 bits)
Cubase Pro 8 (32 and 64 bits)
WARNING: DTouch does not support Cubase Pro 8.0.0 (without updates). We suggest you to install the latest Cubase Pro 8.0.x update from Steinberg (they are free of charge)
Cubase Pro 8.5 (32 and 64 bits)
Cubase Pro 9
WARNING: DTouch does not support Cubase Pro 9.0.10 and 9.0.0, when using the Italian language. We suggest you to install the latest Cubase Pro 9.0.x update from Steinberg (they are free of charge)
Cubase Pro 9.5
Cubase Pro 10 and 10.5
Cubase Pro 11
Steinberg Cubase Artist is NOT supported.
Steinberg Cubase Elements is NOT supported.


Supported Touch-Monitors:
For best user experience, you will need a multitouch-monitor to run the DTouch application. You can also start the application without a touchscreen, using it with your mouse.
You can mix any type of touchmonitors and regular monitors for the most complex multi-monitor setup.
Currently, DTouch support the following officially tested touchmonitors:

- Acer T272HL (WARNING: the Acer T272HUL DOES NOT WORK!)
- DELL P2714T
- iiyama ProLite T2735MSC
- PQ Labs G4S IR Multi-Touch Overlay
- Hannspree Hanns.G HT 273 HPB
PLEASE NOTE that the touchscreen model you choose is IMPORTANT.
Contact us if you need to use a touchscreen that's not listed above.
---
Download
You can download the application installer, user guide and related files on the Software and Documentation page of the Support section.
Just after the installation, the application will be unlicensed and will run in Trial Mode.
(Trial Version Limitations: only 8 Track virtual faders send value messages to Cubase; in addition, DTouch will work for 60 minutes after startup, then it will close and will need to be started again)
You can buy a full-featured, unlimited license on our Store.
PLEASE NOTE that the Full License purchase is not refundable.
We recommend you to thoroughly test your system in Trial Mode before purchasing a Full License.